as published in the TRAVEL SECTION on Saturday, April 26, 2003
Global travel as a 'freeloader'
Dutch man's Web site is calling card
Generosity gets him through the night
Anne Dimon
Special to the Star
He admits some critics call him a freeloader, but Ramon Stoppelenburg, self-proclaimed Internet World Traveller, sees himself as a travel writer.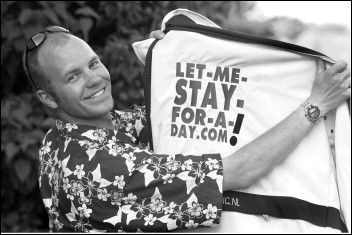 Ramon Stoppelenburg of the Netherlands travels the world with his dot.com as a calling card and passport. He's been on the road since May 1, 2001, travelling to 17 countries with only a backpack, a laptop, a digital camera and a phone. He arrived in Canada in February


And why not?

He says he works 25 hours a week on his laptop and has generated 450 stories and over 7,000 images of his on-the-road adventures. This cash-challenged 26-year old is travelling the planet using his Web site - Letmestayforaday.com - as a calling card, passport, outlet for his daily reports, and cyber billboard for sponsors like Via Rail and Canadian North.

Since leaving his home town of Zwolle in the Netherlands on May 1, 2001 with only a backpack, a laptop, a digital camera and a mobile phone, Stoppelenburg has travelled 17 countries, living out of a suitcase and bunking in with anyone who will offer him a bed, a couch or a tent for the night, or the week. The Cairns Post (Australia) calls him "the world's most famous homeless guy."

He says he has no idea when he'll be back in Zwolle. "It's a lifestyle," he says. Then again, he volunteers, "maybe I'll crash in three months and go home."

Stoppelenburg set foot in Canada on February 17.

That was after a Calgary woman bought him a return ticket with her Aeroplan points.

Since then he has spent time touring British Columbia, the Northwest Territories (it surprised him to find everything was so modern), and Montreal (he was totally impressed), and as I write this column, he is still in Montreal headed for Quebec City by the weekend.

If plans unfold as expected, Stoppelenburg will be in Canada until the end of July and, depending on invitations and sponsorships, he hopes to make it all the way to Newfoundland.

After that, "who knows?" he says. "Where I go and what I do depends on sponsorships."

Yes, if anything, this is definitely a serendipitous lifestyle.

Toronto is on his itinerary but he can't say when he'll be here. He plans just one week ahead. One thing he will confirm is that he doesn't need any more offers of accommodation.

At the time we spoke, there were about 25 Toronto invitations on the table- all generated from media coverage, his Web site and word of mouth.

He estimates about 4,000 invitations have come through his Web site that gets about 60,000 hits a day.

While Stoppelenburg studied journalism for seven years in the Netherlands, he decided never to become a journalist because, he says, he didn't like the 9 to 5 job and he wasn't learning anything about life.

Instead, he wanted to travel so he decided to combine the two. The project, he explains "is about hospitality and about people worldwide. It's about how normal people live in different countries and different walks of life."

Through his Web site he asks for a place to stay and something to eat.

He contacts those who invite him just prior to his arrival to make sure the date is OK.

Other than that, all he has is a name and address.

He knows nothing more about his hosts until he arrives on their doorsteps.

"Some people spoil me," he admits. "Others are very poor."

He's slept in mud huts in South Africa, a medieval castle in Northern Ireland and a swag in the Australian desert.

A luxury hotel, he adds, "is not living."

The goal of the project, he explains, is "to open people's eyes and show how normal people in different countries and different walks of life live."

And, of course, see the world on a shoestring budget- make that no budget. He says his biggest challenge is proving to the naysayers that "it's possible to travel the world on the hospitality of others and not spend any of my own money."

In return for the hospitality, he posts daily reports on his Web site about his hosts, his day, his experiences. You can access his personal journals- dating back to May 1, 2001- by clicking Daily Reports at www.letmestayforaday.com.

"Going places, meeting people, telling the story and opening people's minds to anything and everything," is what he says he most enjoys. "Every day is an experience, everyday is unique."

Anne Dimon is a Toronto-based freelance travel writer and columnist. Contact her at adimon@interhop.net.