The official
Letmestayforaday.com
sponsors always were:


www.ODLO.com

www.pac-safe.com
---
During my travels newspaper columns were published weekly in the Dutch daily newspaper




This project has been supported by these great and warmhearted companies:
Netherlands: Paping Buitensport, ODLO, IPtower.nl, AVRO Dutch Broadcasting Org., Travelcare, TunaFish, Book A Tour, StadsRadio Rotterdam; UK: Lazystudent, KissFM, The Sunday Times, The Guardian; Isle of Man: SteamPacket/SeaCat; Ireland: BikeTheBurren; Belgium: Le Temps Perdu, Majer & Partners; Austria: OhmTV.com; Norway: Scanrail Pass, Hurtigruten, Best Western Hotels; South Africa: eTravel, British Airways Comair, CapeTalk, BazBus; Spain: Inter Rail, Train company Renfe; Australia: Channel 9 Television, Bridgeclimb, Harbourjet, SeaFM Central Coast, Moonshadow Cruises, Australian Zoo, Fraser Island Excursions, Hamilton Island Resort, FantaSea Cruises, Greyhound/McCafferty's Express Coaches, Aussie Overlanders, TravelAbout.com.au, Travelworld, Unlimited Internet, Kangaroo Island SeaLink, Acacia Apartments; Malaysia: Aircoast; Canada: VIA rail, Cedar Springs Lodge, BCTV/GlobalTV, St. George Hotel, VICKI GABEREAU talkshow, Ziptrek Ecotours, Whitler Blackcomb Ski Resort, Summit Ski & Snowboard Rental, High Mountain BrewHouse, Cougar Mountain Snowmobiling, Whistler Question Newspaper, Snowshoe Inn, First Air, Nunanet.com, Canadian North Accommodations by the Sea, DRL Coachlines Newfoundland, The National Post and Air North.



Reports
During my travels, my compensation for free accommodation for one night, was for me to write a daily travel diary. Of how I got to my next location, the people who would host me, the food I was offered and everything else. Below you find the archives of the highly extensive reports. Know that English is not my native language and most reports were written at high speed around midnight. Enjoy.
Saturday, 12 July 2003

Edmonton --> Calgary, Alberta, Canada
After staying two nights with Sylvia Martin and her family, it was time to go again. The train had gotten me into Alberta and I had planned to move south to Calgary.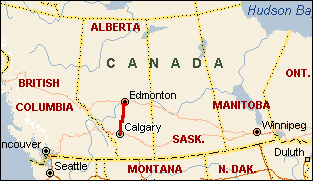 To keep me from hitchhiking, Sylvia sponsored me a ticket on one of the luxurious Red Arrow busses, leaving at 12.30 today. After breakfast and a relaxing morning in Edmonton, Sylvia dropped me off at the bus depot along Jasper Avenue.

The bus was terrific. The sun was hot outside, but air conditioning and a movie on the television ('Beyond Rangoon' or How to be a Politically Correct American Tourist in Asia) made it a comfortable four-and-a-half hours drive to Calgary.

And suddenly the green hilled prairies stopped and just in a blink of an eye, there were the suburbs of Calgary. The skyline with the Calgary Tower was bragging in the background.

Some info about Calgary
Modern Calgary is one of the West's largest and youngest cities, its close to 950,000 strong population having grown from almost nothing in barely 125 years. Long before the coming of the outsiders, however, the area was the domain of the Blackfoot natives, who ranged over the site of present-day Clagary for several thousand years.

After European explorers settled around here and traded in fur and whiskey. Trouble followed and this created the building of the first North West Mounted Police fortifications and the creation of Fort Calgary. The word calgary is Gaelic for 'clear running water', and it was felt that the ice-clear waters of the Bow River and Elbow River (coming from the Rockies) were reminiscent to the "old country".

Despite Calgary's modern-day cowboy life the Alberta cattle country has been described as more "mild West" than Wild West. Research suggests that there were just three recorded gun fights in the entire nineteenth century, and poorly executed ones at that!

By 1886 fires had wiped out most of the town's contemporary wooded and tented buildings, leading to an proclamation that all new buildings should be constructed in sandstone and Calgary was for a while known as the Sandstone City.

Cattle and the coming of the railway generated exceptional growth for Calgary, though the city's rise was to be nothing compared with the prosperity that followed the discovery of oil. When oil prices soared during the oil crisis of the 1970s, the city exploded, becoming a world energy and financial centre with more American inhabitants than any other Canadian city.

In downtown Calgary I contacted Jeff Funnekrotter, my first host for the coming days in Calgary. Jeff picked me up half an hour later and took me along to his house, southwest of the city centre. He had worked until five o'clock and just was off work.

Jeff works for Telus Mobility, on of the Canadian phone companies. When I asked him what he exactly did, he said:
"I take care of the accounts of big companies and I have to keep them happy. I go golfing with important people and take them to the Stampede."
"So it's not really a hard job, I guess!"
"I don't complain about it at all!"

In the car to his home I was immediately called by a local television station. They wanted to make a television report about me, but I wasn't sure what Jeff's plans would be so I hold them off for a few hours. Jeff was pretty surprised that the media in Calgary seemed to be so involved in my project. I guess they have been waiting for me.

His CD-player in the car was playing music from Sam Roberts. Jeff told me how Sam was playing at the Stampede last week and he was really rocking. I know! "I grew up in Montreal and know Sam Roberts from when I was a little kid. He was one of the friends of my younger brother. It is pretty interesting to see how he is growing to be a really big rock star in Canada."

"When you wrote about your thrilling visit to his album release party in Toronto, I send him an email and told him about your report and the photos you had taken. But then, last week at the Stampede, I waved at him when he was backstage. He walked up me and suddenly we were great friends from the past again and we hang out with the band backstage. The other band members are very cool."

While he was telling me this, of course my jaw was wide open.

"So I tell him again about you and your website and he remembered it. Then I told him that you are actually staying with me this weekend and he had big laugh about it. Isn't the world a small place?"

Jeff bought his own block in an apartment complex a few years ago. It doesn't have much furniture, but it looks like Jeff isn't a person that needs much around.

Raised by a Dutch mother, Jeff still speaks excellent Dutch and he would talk Dutch to me whenever possible. I just found it very weird to talk Dutch in Calgary, while I almost always think and talk Dutch lately. For me, my own Dutch sounds silly and stupid, so far away from home. So he talked Dutch to me, and I answered back in English.

After dropping off my stuff at his house Jeff took me out into town for a little showing off of his current hometown city. First we had a walk around along the river front where there was a little market. In this week Calgary organises the Calgary Stampede, the hugely popular cowboy carnival, famous all over North-America. As this pulls so many visitors into town, the entire city is in Stampede mood. Pubs have painted windows and western styled window frames and every deli or restaurant put the word Yahoo! on their signs.

We ended up having dinner on the patio of a fancy and popular restaurant named Chianti, where Jeff also invited along his good friend Simon.

I did get back to that television station and told them I was going to be in the city centre for the rest of the night. But somehow they didn't have a camera crew ready for tonight and since then I have never heard anything from them again. That's okay with me too…

From the restaurant we got ready for the nightlife of Calgary, which is totally different than usual during the Stampede. Everybody puts on his cowboy shirts and boots to be part of the real men for who it still is very much a way of life in the surrounding cattle country.

One thing I had to experience in Calgary was a party place known as Cowboys Dance Hall. When we got there people were standing in a line as long as an entire street block. Fortunately Jeff had called the people there in advance and told them about me and my project. And suddenly our names had ended up on the VIP-list. Skip the line and get in, that was it!

Inside it was getting very very busy, and it wasn't even ten o'clock in the evening yet. I immediately discovered what a meat market this was. Most people looked as they had enough of watching their cattle on their ranch, so they showed utmost interest in the other sex. Cowboys were going after cowgirls and cowgirls knitted together to see which cowboy was the most interesting to them. And then imagine this game with some 500 people!

Outside, through the backdoor of Cowboys was an enormous tent with bars and a band was making all cowboys about to break the dancefloor with their boots. It was a remarkable place, were I did not really feel comfortable (I am not a cowboy) put it was an interesting experience to live by for a night.

Big-busted young women were selling beer behind boxes of ice and Jeff told me that if you work here good enough, the boss of the place pays for your boob-job! What? Oh my God! Then I looked at the ladies that sell that beer ($5.75 per can!) but their exaggerated breast sizes would not impress me at all. "Strange hey? It's like somebody just drew a cartoon, it's not even normal anymore!" It sure wasn't.

So we had some good walks around there, while drinking beer and enjoying the atmosphere. When Jeff took my camera I suddenly was posing with dozens of young ladies, after he told them about my project and website. Oh well… Like I would complain about that!

One advantage about this place, or the attitude of the people, is that you can talk to anybody at any time. So I ended up having great laughs with a geology engineer from Saskatoon named Jamie, a lady who we bumped into every time. But when she took me dancing, I was quite embarrassed, because I don't know much of this western styled hanky-panky-throw-your's-leg-in-the-air-and-slam-it kind of dancing...

We stayed until the band played their last song in a row of endless covers and then Jeff and I decided to head back home.

He assured me that I could sleep in tomorrow, which would be very obvious to me after consuming a fair amount of alcohol this night. I don't remember drinking that much alcohol in the last months! "But don't sleep too long, or we miss the Stampede. That's where I want to take you too!"

Oh great! I am in Calgary, world-famous for the Stampede which is only once a year and I am going to experience the last day of it! What a luck!

Yahoo Calgary!

Ramon