The official
Letmestayforaday.com
sponsors always were:


www.ODLO.com

www.pac-safe.com
---
During my travels newspaper columns were published weekly in the Dutch daily newspaper




This project has been supported by these great and warmhearted companies:
Netherlands: Paping Buitensport, ODLO, IPtower.nl, AVRO Dutch Broadcasting Org., Travelcare, TunaFish, Book A Tour, StadsRadio Rotterdam; UK: Lazystudent, KissFM, The Sunday Times, The Guardian; Isle of Man: SteamPacket/SeaCat; Ireland: BikeTheBurren; Belgium: Le Temps Perdu, Majer & Partners; Austria: OhmTV.com; Norway: Scanrail Pass, Hurtigruten, Best Western Hotels; South Africa: eTravel, British Airways Comair, CapeTalk, BazBus; Spain: Inter Rail, Train company Renfe; Australia: Channel 9 Television, Bridgeclimb, Harbourjet, SeaFM Central Coast, Moonshadow Cruises, Australian Zoo, Fraser Island Excursions, Hamilton Island Resort, FantaSea Cruises, Greyhound/McCafferty's Express Coaches, Aussie Overlanders, TravelAbout.com.au, Travelworld, Unlimited Internet, Kangaroo Island SeaLink, Acacia Apartments; Malaysia: Aircoast; Canada: VIA rail, Cedar Springs Lodge, BCTV/GlobalTV, St. George Hotel, VICKI GABEREAU talkshow, Ziptrek Ecotours, Whitler Blackcomb Ski Resort, Summit Ski & Snowboard Rental, High Mountain BrewHouse, Cougar Mountain Snowmobiling, Whistler Question Newspaper, Snowshoe Inn, First Air, Nunanet.com, Canadian North Accommodations by the Sea, DRL Coachlines Newfoundland, The National Post and Air North.



Reports
During my travels, my compensation for free accommodation for one night, was for me to write a daily travel diary. Of how I got to my next location, the people who would host me, the food I was offered and everything else. Below you find the archives of the highly extensive reports. Know that English is not my native language and most reports were written at high speed around midnight. Enjoy.
Friday, 16 May 2003

ferry + bus --> Whitbourne, Newfoundland, Canada
For my senses it was way too early to be wakened up by a microphone voice announcing everybody on board of the ferry to Newfoundland that "we have arrived". It was only 4.30 in the morning!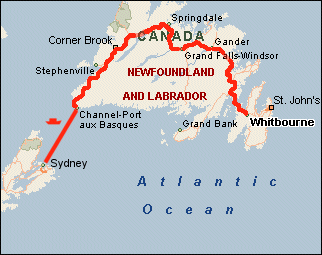 Once off the big ferry I had to wait with my luggage at the small ferry terminal in the port of Port Aux Basques to get on the 8 am bus that would take me to my destination.

And suddenly the sun came up and I could see where I had arrived. Man, I made it all the way to Newfoundland! Or The Rock, as this place is still referred to by Newfoundlanders and close mainlanders.

What I know so far about this place is that the Newfoundlanders (unfairly caricatured by many Canadians in the stereotype of the dim "Newfie" – a term coined by servicemen based on The Rock in World War II) speak a rare dialect and love their traditional food. I have already received emails that I should make sure I eat cod's tongues, fried bread dough with molasses and seal-flipper pie. And the most usual thing to eat seems to be fish and chips.

And have I already told you that really everybody, I mean everybody, that talks about Newfies, tells me that they are the friendliest people in Canada?

And this is what the Canadian Tourism board brochure tells me:
A land of startling natural beauty. A land where people have made their living from the sea along 10,500 miles (16,800 kilometers) of coastline for countless generations. Newfoundland and Labrador is home to a 1,000-year-old Viking settlement. Glacially carved inland fjords. Wild rugged coastlines. Towering mountains of ice crossing paths with humpback whales. Some of the most interesting, fun-loving folk you'll ever meet. Welcome to the land that lives by the sea.

That already sounded good to me!

In the waiting areas of the remote ferry terminal I tried to get some sleep. A big screen television was showing an American news channel and it was all about nothing. Holidays, fishing tips and the latest news about hockey, golf and 'American Idol' were the main issues at the moment.

A few weeks ago it was all about war, war and war, but we don't hear about that anymore. Like it's all peace and happiness in Iraq now. Like there is no war going on in Chechnya (formerly a part of Russia), there are no atrocities in Congo (former Zaire in Africa) and forget about problems in Sierra Leone (who cares where that is). No, people should only care about wars if they are somehow affected by it, am I not true?

I boarded the bus from DRL Coachlines on time, got myself a seat in the back and tried to rest my head again.

My upcoming hosts had contacted them about my arrival and DRL threw in a free seat for me. It's rather difficult to get a good sleep on a comfy seat on a boat, move to a ferry terminal and get on a bus. But I should not be complaining, this bus drive will give me enough time to catch up some sleep, I guessed.

It's only a twelve hours drive to Whitbourne along the one and only highway, the Trans-Canada, which sweeps 900km from the southwest corner of the island to the Avalon Peninsula, where St. John's, the capital city, sits on the northeast shore.

Isolated from the rest of the country, Newfoundland is a place of great isolation within its own boundaries. Only in the recent years have many of the outports – the ancient fishing settlements that were home to the first Europeans – been linked by road to the solitary highway.

As my eyes opened and closed once in a while I remember driving up and down hills, seeing snowy mountains in the background, green valleys and lots and lots of ponds – that's how they call all these lakes here.

I passed towns that were merely a dot on my map. Stephenville, Corner Brook, Deer Lake…. What I saw could have been like any town I have seen on Prince Edward Island or Nova Scotia. And most of it I saw of it was the gas station where the bus made its stops. Oh no, I also saw the movies that were played on the small televisions on the bus. Sweet Home Alabama, [/i]On the other Side of Heaven [/i](boring!) and another one, but I guess I forget that one because I could not concentrate anymore on the low volume the movies were playing at.

And slowly I noticed that the bus was getting fully packed. Next to me sat a very old man totally dressed in black with a black hat on his head. As I tried to close my eyes or watch the television screen, he would see something through the window, 'elbow' me and say something I could really really not understand at all and have a short soar laugh. I simply laughed along and continued with whatever I was trying to do.

Although Newfoundland is one of the oldest place names on the eastern seaboard, its evolution may be easily followed. It was the "new founde isle" of John Cabot who sailed westward from English Bristol in 1497; although Norsemen, Basques, and Bretons (among others) had undoubtedly preceded him.

By 1502 "New found launde" was being used in official English documents with the French version "Terre Neuve" appearing as early as 1510 - a clear indication of the acceptance of the designation. I discovered that the Italian discoverer Giovanni da Verrazano used the term "Terra Nova" on his maps of 1529.

Newfoundland became part of Canada on March 31, 1949, as the tenth province. Before that time it was a independent state on its own. Until the early 20th century, Newfoundland's economy was based almost completely on fishing. By the early 1990s, although the manufacturing and service sectors had expanded, the provincial economy was dominated by mining.

Since this month (!) fishing seems to be totally over, as the Canadian government (read: politicians in far-away Ottawa) closed the cod fishery, endangering the employment of many residents in Newfoundland!

And that was a reason for some fishermen to block my ferry last night, in protest of the closure of their fishery. Canada seems to have a serious fishing problem.

Halfway, somewhere in the afternoon already, the bus made a 30-minute stop at the International Airport in the small town of Gander and I had quick walk around to stretch my legs.

Right there on that airport were two planes of the US Air Force. I walked to the fence and decided to take a few photos of these jumbo jets. Then some soldier-like man approached me from the other side, telling me I was not allowed to take photos of them.

I found that very strange: I am on a parking lot for busses, I get out of the bus and I am not allowed to take a photo of something I see on the other side of a fence? Then move those planes!

My guidebook is quite clear about Gander: "There is no reason to stop, unless you're tired from the long drive." I guess the driver of the bus needed a stop here.

It was already evening and the sun was about to go disappear again, when my stop was announced: Whitbourne. When I got out at the gas station along the Trans-Canadian, my hosts Bob and Eva Striha were already awaiting me.

When I got my stuff in the back of their jeep, they thanked the bus driver for taking me along. Talking about friendly people, ay?

Whitbourne is a small community located in the centre of the Avalon Peninsula, that piece of corn flake that sticks out the rest of the island if you look at the map. I made it all the way to the other side of the island and Whitbourne will be my stop for a few days.

Bob and Eva Striha heard about me through members of their family in Vancouver. They had seen me on Vicki Gabereau's talk show and emailed them with the suggestion to invite me over in Newfoundland. And here I am!

My hosts took me from the gas station along the Trans-Canada through small town Whitbourne and we ended up in Markland. Markland is the unknown back yard community of Whitbourne, not to be found on any map. And talking about yards, that's where Bob and Eva run their business in: they run the Still Meadows Greenhouses Ltd, a small plants nursery.

Just before the sun set itself, I had a quick look at the nursery, where Bob sells all kinds of garden plants for anybody's pleasure. They live in a nice house behind the nursery, pretty much only accessible in a 4-wheel drive car as the road is washed a way pretty much and very bumpy.

To make me feel at home and comfortable, Bob had bought a six pack of Heineken beers. I was very tired of the only 12 hours bus drive, but could not refuse a cold beer imported from my home country.

With the bag of groceries I had with me along the entire trip to this place, I wasn't really hungry for any dinner. The Striha's already had dinner themselves. I was fine. But I honestly told them I could easily fall asleep (a good one for a change) any minute after I had finished my beer.

Bob showed me my bed room in the downstairs basement, which is used as the coolest place of the house, with also a cosy television room and a small office room.

I just had to apologize to Bob and Eva about my exhaustion, but they could totally understand me. Even though I had closed my eyes several times on the bus and the ferry, I was wrecked!

Good night Whitbourne!

Ramon.