The official
Letmestayforaday.com
sponsors always were:


www.ODLO.com

www.pac-safe.com
---
During my travels newspaper columns were published weekly in the Dutch daily newspaper




This project has been supported by these great and warmhearted companies:
Netherlands: Paping Buitensport, ODLO, IPtower.nl, AVRO Dutch Broadcasting Org., Travelcare, TunaFish, Book A Tour, StadsRadio Rotterdam; UK: Lazystudent, KissFM, The Sunday Times, The Guardian; Isle of Man: SteamPacket/SeaCat; Ireland: BikeTheBurren; Belgium: Le Temps Perdu, Majer & Partners; Austria: OhmTV.com; Norway: Scanrail Pass, Hurtigruten, Best Western Hotels; South Africa: eTravel, British Airways Comair, CapeTalk, BazBus; Spain: Inter Rail, Train company Renfe; Australia: Channel 9 Television, Bridgeclimb, Harbourjet, SeaFM Central Coast, Moonshadow Cruises, Australian Zoo, Fraser Island Excursions, Hamilton Island Resort, FantaSea Cruises, Greyhound/McCafferty's Express Coaches, Aussie Overlanders, TravelAbout.com.au, Travelworld, Unlimited Internet, Kangaroo Island SeaLink, Acacia Apartments; Malaysia: Aircoast; Canada: VIA rail, Cedar Springs Lodge, BCTV/GlobalTV, St. George Hotel, VICKI GABEREAU talkshow, Ziptrek Ecotours, Whitler Blackcomb Ski Resort, Summit Ski & Snowboard Rental, High Mountain BrewHouse, Cougar Mountain Snowmobiling, Whistler Question Newspaper, Snowshoe Inn, First Air, Nunanet.com, Canadian North Accommodations by the Sea, DRL Coachlines Newfoundland, The National Post and Air North.



Reports
During my travels, my compensation for free accommodation for one night, was for me to write a daily travel diary. Of how I got to my next location, the people who would host me, the food I was offered and everything else. Below you find the archives of the highly extensive reports. Know that English is not my native language and most reports were written at high speed around midnight. Enjoy.
Thursday, 1 May 2003

Moncton, New Brunswick --> Charlottetown, PEI, Canada
I started off travelling the world on May 1, 2001... Guess what, that is - today - two years ago!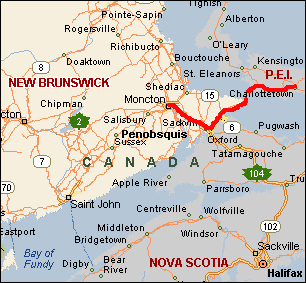 On this first day of May I could generously sleep in, but strangely enough I was wide awake at 9am this morning! Laurie Burns' mum and dad had already exchanged the house for their working places and I had myself a shower and waited for Laurie to appear from her bedroom.

I was processing emails and planning ahead for the coming week when Laurie's mum appeared to be back. She only had a early morning shift at the hospital and soon Laurie also appeared and it was getting a good time for some breakfast. Laurie's mum made us some bagels with egg and bacon.

I was ready to hit the road again when I had my stuff packed again and Laurie and her mum were happy to drop me off along the highway just outside Moncton.

Today I had to cross a distance of about 200km, but with 13km of water in between, I needed some good luck hitchhiking.

I thanked Laurie and her mum for helping me out the last days and stood along the highway with a huge cardboard sign which Laurie's brother Greg had made for me. If people now don't see where I need to end up today, they should not be driving a car.

I got my first lift after hanging around the side of the two lane road for thirty minutes. It was an old native women, who did most of the talking in the car. As soon as she figured out I was a traveller from Europe, she fired a long talk about her daughter who lives in a tepee in Australia and who makes a lot of money making and selling jewellery at a road stop of the notorious OzExperience backpacker's bus. That is indeed a good way to make money, those backpackers there love jewellery souvenirs and I have seen those armband and necklaces go around for 50 bucks each when I was in Australia.

The lady dropped me off just outside the small francophone town Shediac. It was down the road from Moncton, but as long as I was on the right road to my island, I was fine.

The next person who picked me up was not that talkative. He smoked away in his car and took the scenic shortcut to reach the Confederation Bridge ([url=http://travel.confederationbridge.com/bridgecam2.asx]live webcam). He didn't have to go all the way that far, but the sky was clouded and he didn't want me to be stuck in the rain along the road. He through some 60km further than where he had to be himself.

The man dropped me off at a small cabin near the start of the 13km-long Confederation Bridge that goes all the way to Prince Edward Island over the Northumberland Strait. It appeared that from this cabin a free shuttle takes pedestrians over the bridge to the other side. For free! I only had to make a free call by pressing a button and a man on the other side told me the shuttle would "arrive anytime soon".

I waited outside for half an hour until a jeep pulled over. In the meantime two other pedestrians were dropped off and joined me in the jeep. I was going to Prince Edward Island!


Also known as P.E.I., Prince Edward Island is Canada's perfect little island jewel of red soil and green rolling hills, renowned for sweet lobster, stunning beaches, top-rated golf and the world-famous Anne of Green Gables. You can read this entire famous book online.

When the jeep arrived on the island at some touristy welcome-resort with nicely painted houses, I asked my fellow passengers if one of them were by any chance heading to Charlottetown. One lady was being picked up by her husband and was actually just about to offer a lift herself as she had seen my rather big hitchhiking sign. "Yeah, come along."

I was introduced to Prince Edward Island, which is by the looks of it, also the world's biggest potato farm. As we drove on the road towards Charlottetown, passing towns with nearly ten houses and a gas station all together, I also saw hills of continuous farmland.

I had arranged to meet up with my only hostess on Prince Edward Island at 3pm, which was quite a challenge for me as I never know what time I would arrive when I am hitchhiking. I actually arrived in downtown Charlottetown at 3.30pm, one half-an-hour too late, but did manage to meet up with my hostess Lynn Hufnagel.

Lynn is a teacher at a primary school in Charlottetown and lives just on the other side of the river that goes through the island, in Stratford.

Charlottetown is the capital and the largest city in Prince Edward Island. It also has the distinction of being "The Birthplace of Canada". In 1864, delegates from "Upper and Lower Canada" (now Ontario and Québec) first gathered here with the island politicians of Nova Scotia and PEI to discuss a possible federation.

I heard about Charlottetown before on my travels. When I stayed at this fun-hostel along the south coast of South Africa I met up with two travellers from Charlottetown who just started their trip to get from South Africa to Russia. It was Erin Collins and Jeff Radke(remember my first host in Canada?) who ran the website www.independentlyhomeless.com. I remember well how I gave away the bedroom I shared with Erin so he could be together with the Danish girl Nynne he met at that hostel. Years later, Nynne and Erin are getting married in Calgary in August! I think I should take some credits for that, hehe.

Just after meeting up with me, Lynn bought me an ice-cream cone at Cow's before she would take me to her home in Stratford. Also Lynn had heard about my website through the CBC radio one day and decided to invite me over. I have received two more invitations from residents of this island, but never heard of them again after I sent them an email.

Lynn told me I could easily spent a couple of days on the island and perhaps also hang around at a friend's place, who lives at the north shores of the island. I was happy with that, because I didn't not want to experience a province in only one day.

Lynn lives together with Joe, who is a fundraiser for the Canadian kidney foundation. Their home is heavily under construction since they bought it over in July last year.

We had a chicken stir fry with rice for dinner and after dinner I settled myself in their living room, reading books about the island and browsing through tourism brochures Lynn had collected for me. Meanwhile Joe was busy breaking down parts of the house in the basement.

Lynn and Joe gave me some rest by just letting me feel at home. "Mi casa is tu casa," Lynn said. "From now on, you can do anything yourself," and she showed me the contents of their fridge and how I could make my own coffee. Of course I immediately fell at home.

More to come on PEI tomorrow. Mmm, what should I do on this island?

Good night Charlottetown!

Ramon.