The official
Letmestayforaday.com
sponsors always were:


www.ODLO.com

www.pac-safe.com
---
During my travels newspaper columns were published weekly in the Dutch daily newspaper




This project has been supported by these great and warmhearted companies:
Netherlands: Paping Buitensport, ODLO, IPtower.nl, AVRO Dutch Broadcasting Org., Travelcare, TunaFish, Book A Tour, StadsRadio Rotterdam; UK: Lazystudent, KissFM, The Sunday Times, The Guardian; Isle of Man: SteamPacket/SeaCat; Ireland: BikeTheBurren; Belgium: Le Temps Perdu, Majer & Partners; Austria: OhmTV.com; Norway: Scanrail Pass, Hurtigruten, Best Western Hotels; South Africa: eTravel, British Airways Comair, CapeTalk, BazBus; Spain: Inter Rail, Train company Renfe; Australia: Channel 9 Television, Bridgeclimb, Harbourjet, SeaFM Central Coast, Moonshadow Cruises, Australian Zoo, Fraser Island Excursions, Hamilton Island Resort, FantaSea Cruises, Greyhound/McCafferty's Express Coaches, Aussie Overlanders, TravelAbout.com.au, Travelworld, Unlimited Internet, Kangaroo Island SeaLink, Acacia Apartments; Malaysia: Aircoast; Canada: VIA rail, Cedar Springs Lodge, BCTV/GlobalTV, St. George Hotel, VICKI GABEREAU talkshow, Ziptrek Ecotours, Whitler Blackcomb Ski Resort, Summit Ski & Snowboard Rental, High Mountain BrewHouse, Cougar Mountain Snowmobiling, Whistler Question Newspaper, Snowshoe Inn, First Air, Nunanet.com, Canadian North Accommodations by the Sea, DRL Coachlines Newfoundland, The National Post and Air North.



Reports
During my travels, my compensation for free accommodation for one night, was for me to write a daily travel diary. Of how I got to my next location, the people who would host me, the food I was offered and everything else. Below you find the archives of the highly extensive reports. Know that English is not my native language and most reports were written at high speed around midnight. Enjoy.
Tuesday, 22 April 2003

Rimouski, Quebec --> Miramichi, New Brunswick, Canada
This morning I woke up at 7.30 in the morning, had a quick shower and pack my bags together again. Valérie had already left the house to get at her work at 8am. Martin had to start at 8.30am but let his colleagues know that he would be running a little bit later.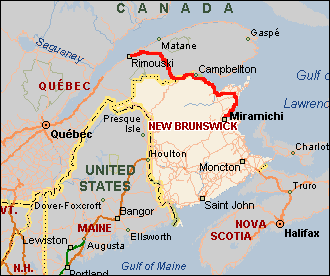 After some cereal and a banana for breakfast it was time to get going again. Today I again would make a long distance. Martin offered to drop me on the road number 135 going south, only one town east. When he dropped me off at the beginning of Saint Joli, he told me he couldn't drive any further; otherwise he'll get into problems at his work. It was okay for me, I walked myself through the small town of Saint Jolie to catch traffic that would not be locals only.

Sweaty and out of breath (Saint Joli isn't particularly flat) I jumped in the car that pulled over for me, while I wasn't even hitchhiking. The driver had seen me walking by with my sign saying 'Campbellton please' and could take me along for "fifteen clicks down the road".

Just one minute after I was dropped off in the hilly country side south of Saint Joli, a man named Claude pulled over for me. He had seen me walking past his house, but was too late to pick me up. Claude is a piano tuner and was on his way to a few houses in the area where he tunes the pianos. "I used to be a famous piano player in the past," he told me. "But now I am too old to go around that much. Know I only tune pianos."

Meanwhile we were driving through the land of the small brown hills. Small farmhouses were scattered along the road, with those high wooden barns that would easily collapse of age if you would blow at it, with a few people.

Claude never sees any hitchhikers around here. "There aren't many tourist attractions around here to go for," he said.

He dropped me off south of the town Amqui. From here it was only another 150km to Campbellton. Along the road I had a lunch break and I enjoyed the yoghurt drink that Martin had given along together with a sandwich.

It must have been a strange sight to see that guy laying on his bags along the road, enjoying the sun while slurping yoghurt!

Another driver, a total francophone, took me along and could take me all the way until Campbellton. He dropped me off just before the town's borders, but meanwhile I had made it into the Canadian province New Brunswick!

It's indeed a fact that New Brunswick attracts less travellers and tourists than the Maritime neighbours Nova Scotia, Prince Edward Island and Newfoundland. The forested upland makes up the bulk of the province, but the long river valleys that run through the landscape compensate this, again.

But I wasn't at my destination yet. The other side of my sign said 'Miramichi please'. I was only halfway so far. My next ride took me along as he saw me walking towards the entry points of Campbellton. As I was the traveller in his car, he decided to take the scenic route along the waters of Chaleur Bay and drive through a small native reserve named Osprey Park.

"Everything you see at your right is forest for miles and miles," my driver said. "Then you get the Saint John river and from there it is the United of f****** States." It was very clear my driver doesn't like America that much.

I was dropped of north of Bathurst and – unbelievable – within ten seconds I had another drive. This man could take along for another fifteen minutes and drop me off south of Bathurst.

From here it was no more than 90km to go to Miramichi. A big smelly man who was "just driving around" took me along. He either works at a farm or has a serious problem with his body odours, but I survived his lift.

The final ride I got from a young couple from Bathurst. They were plain simple New Brunswick folks that lived near Moncton most of their lives. "The Netherlands, ay? Cool. Huh-huh." But then the fun part started.
"My mum is from Holland too! I love Ontario."

However they gave me the pleasure of finally arriving in Miramichi. It took me just a bit more than seven hours to go this distance of 375km. I actually estimated a 9-hours-trip!

At the Bridgeview Plaza shopping mall I contacted my host in this town. He had told me before not to worry about my transport, if necessary he would pick me up all the way in Campbellton. "It's only a three hour drive!" he had said.

It was him, Rick Matthews, who picked me up and took me along to his home just outside the city.

Miramichi is actually very spread out. It's a collection of the cities Newcastle, Catham and Miramichi together and has a total population of only 22,000 residents. The main industry in the Miramichi Valley is salmon (from the Miramichi River) and timber. "," Rick told me.

"Miramichi people are very friendly and helpful. This is also the salmon capital of the world," Rick told me. Really? "Anglers from all over the world come here to fish for salmon. Only the last few years they had a heard time catching fish."

Rick had heard about my website on CBC Radio a couple of months ago, when I was still in Vancouver.

He is employed as a parole officer at the nearby heavy security prison with 200 inmates. Now that sounded very interesting! "It's the only heavy security institution in eastern Canada and the people that sit their time there – you don't ever want them to be your best friends."

At his home I met up with his wife Paula and I get a quick tour of the house and I am given the guest room on the second floor.

Just after this whole day of hitchhiking I needed a powernap to recharge and to prevent from going on standby later this evening. It was all right with Rick and Matthew that I had a one-hour nap. During this hour, Rick went to the gym for some workouts.

The nap was really necessary and refreshing and when I got down again, dinner was almost ready.

Rick has high speed internet in the television room in the basement and helped me up with connecting my laptop to the cables.

Dinner was atlantic char and salmon from the barbecue, with vegetables and mashed sweet potatoes. When I was told what it all was, I had to say no to the sweet potatoes, because it's one of the three things my body does not enjoy and rejects at a later stage (there we go for future hosts: pumpkin and apricots neither). But Paula had made enough vegetables and fish to fill our stomach. I could barely fit in the chocolate cake dessert at the end.

At the table most of the conversations were about travelling. Rick was interested about the Netherlands and I heard their stories of their trip to Spain last year. I enjoyed the story Paula told me about their being robbed in Madrid. Having worked in Spain quite a few times for summer jobs, I knew all about it. If there is something any traveller should be worried about in Spain, it should be pick pocking particularly.

After dinner the night ended smoothly, with the family heading off to bed pretty soon and me using some night time writing. Rick told me he would take me along to the prison tomorrow!

Let's see if I can stay in a jail for a day…

Good night Miramichi,

Ramon.