The official
Letmestayforaday.com
sponsors always were:


www.ODLO.com

www.pac-safe.com
---
During my travels newspaper columns were published weekly in the Dutch daily newspaper




This project has been supported by these great and warmhearted companies:
Netherlands: Paping Buitensport, ODLO, IPtower.nl, AVRO Dutch Broadcasting Org., Travelcare, TunaFish, Book A Tour, StadsRadio Rotterdam; UK: Lazystudent, KissFM, The Sunday Times, The Guardian; Isle of Man: SteamPacket/SeaCat; Ireland: BikeTheBurren; Belgium: Le Temps Perdu, Majer & Partners; Austria: OhmTV.com; Norway: Scanrail Pass, Hurtigruten, Best Western Hotels; South Africa: eTravel, British Airways Comair, CapeTalk, BazBus; Spain: Inter Rail, Train company Renfe; Australia: Channel 9 Television, Bridgeclimb, Harbourjet, SeaFM Central Coast, Moonshadow Cruises, Australian Zoo, Fraser Island Excursions, Hamilton Island Resort, FantaSea Cruises, Greyhound/McCafferty's Express Coaches, Aussie Overlanders, TravelAbout.com.au, Travelworld, Unlimited Internet, Kangaroo Island SeaLink, Acacia Apartments; Malaysia: Aircoast; Canada: VIA rail, Cedar Springs Lodge, BCTV/GlobalTV, St. George Hotel, VICKI GABEREAU talkshow, Ziptrek Ecotours, Whitler Blackcomb Ski Resort, Summit Ski & Snowboard Rental, High Mountain BrewHouse, Cougar Mountain Snowmobiling, Whistler Question Newspaper, Snowshoe Inn, First Air, Nunanet.com, Canadian North Accommodations by the Sea, DRL Coachlines Newfoundland, The National Post and Air North.



Reports
During my travels, my compensation for free accommodation for one night, was for me to write a daily travel diary. Of how I got to my next location, the people who would host me, the food I was offered and everything else. Below you find the archives of the highly extensive reports. Know that English is not my native language and most reports were written at high speed around midnight. Enjoy.
Friday, 4 April 2003

Iqaluit, Nunavut --> Pembroke, Ontario, Canada
I woke up with the sound of a lot of people at the bed & breakfast by the sea in Iqaluit. There seemed to be some meeting going on in the public living room. I had a shower, got dressed and decided to take a look at what all the fuss was all about. It ended up that there was some workshop given for new Inuit entrepreneurs and they were advised in how to start up their own Inuit business. A white man was leading the course and the Inuit people were listening through earphones to what a lady at the kitchen table was translating in Inuktitut.

I made myself some breakfast and coffee and read the newspaper, while every half an hour those people would have a break, go out for a smoke or walk around to stretch their legs.

Adamee called me around noon to tell me he would be busy finding the Japanese dude that is doing his survival thing on the ice in the neighbourhood. The guy was supposed to come back today, but no sign of him has been seen so far. I explained Adamee that my flight out down south was leaving today at 6.30pm, but he assured me that Eva could pick me up at the bed & breakfast and she could drop me off at the airport on time.

So I hung around at the B&B for the rest of the day and tried to understand the course that was given to those strange people in the living room. In the meantime I could also be online through a dialup account with Nunanet that Adamee had arranged for me.

I also went out for a few minutes. As the sun was shining bright I wanted to take some nice shots of the B&B and the surrounding views on the ocean. But I had not expected it to be sooo cold again outside. As soon I was out the wind was cutting my face again as a knife! I ran around the house, took some photos and ran inside again. My fingers were already numb from that only!

Adamee had returned back to Iqaluit at 6pm. "The Japanese dude said is was very very cold but wants to stay another few days on the ice," he said. At 6pm Adamee and Eva picked me up from the house and dropped me off at the airport.

I checked in and thanked Adamee and Eva for their northern hospitality.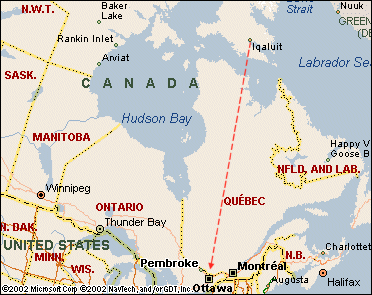 I then got pretty amazed by the fact that everything I was carrying with me, was security screened before boarding. I had to unpack my laptop-bag, let those guys look at the laptop, take everything out of my bags, undo my belt and take off my cap. Wasn't I just going for a national flight only?

The plane left just after sunset in Iqaluit and would take me down for a 3-hours flight down to the province of Ontario, where I would land at the Ottawa International Airport. On board I was spoiled by the flight attendants and given a well done buffalo dinner with a complimentary Baileys coffee for desert.

It was around 6.30pm when I met up with my hostess Lori Sennett in Ottawa. She had offered to pick me up was awaiting me at the airport. Lori does not live in Ottawa, she lives in Pembroke, which is an 180km drive west again. But she was delighted to just pick me up. "It's only a few hours drive," she had said.

Lori had heard about me through the CBC radio in Canada and filled out the form at the time she was still "an office bitch", as she called her job title at that time. "But I never expected you to actually call up and announce your stay at my place."

And then, during this almost two-hour drive to Pembroke, she told me about her life, her family and about her home town. "First of all, everybody I know told me I was crazy by inviting you over," she said. Well that fact might already tell me enough about those people she knows.

The car radio doesn't have much options in this part of Canada. It seems to be Detroit rap music, French country music or heavy rock music. There was nothing interesting in between.

Lori told me she did not have a job at the moment. She is the youngest of seven brothers and sisters in her family. She explained to me that her father is 73-years-old, her mum in her 60s and that she is the only one who is still living at home at 26. "Don't tell me I have not warned you, my parents are crazy." But when I asked her in what way they were crazy, she told me "You'll see. They might actually be very nice to you."

I asked her about Pembroke, her hometown, as there was nothing listed about this town in my own guide book. "There is really nothing in Pembroke. It is absolutely boring."

"What do you parents think of you inviting me over at their place?" I had asked in the car. "Oh, they don't care. And I'll make sure we will not be at home most of the time." Why? "Why would we stay at home?"

Meanwhile the night was dark and we arrived at her parent's home in Pembroke around 1am at night. Lori showed me my bed in the guest room in absolute silence, not to wake anybody up.

Well, I'll see tomorrow if I really landed between crazy people in a apparently boring Pembroke.

Good night!

Ramon.