The official
Letmestayforaday.com
sponsors always were:


www.ODLO.com

www.pac-safe.com
---
During my travels newspaper columns were published weekly in the Dutch daily newspaper




This project has been supported by these great and warmhearted companies:
Netherlands: Paping Buitensport, ODLO, IPtower.nl, AVRO Dutch Broadcasting Org., Travelcare, TunaFish, Book A Tour, StadsRadio Rotterdam; UK: Lazystudent, KissFM, The Sunday Times, The Guardian; Isle of Man: SteamPacket/SeaCat; Ireland: BikeTheBurren; Belgium: Le Temps Perdu, Majer & Partners; Austria: OhmTV.com; Norway: Scanrail Pass, Hurtigruten, Best Western Hotels; South Africa: eTravel, British Airways Comair, CapeTalk, BazBus; Spain: Inter Rail, Train company Renfe; Australia: Channel 9 Television, Bridgeclimb, Harbourjet, SeaFM Central Coast, Moonshadow Cruises, Australian Zoo, Fraser Island Excursions, Hamilton Island Resort, FantaSea Cruises, Greyhound/McCafferty's Express Coaches, Aussie Overlanders, TravelAbout.com.au, Travelworld, Unlimited Internet, Kangaroo Island SeaLink, Acacia Apartments; Malaysia: Aircoast; Canada: VIA rail, Cedar Springs Lodge, BCTV/GlobalTV, St. George Hotel, VICKI GABEREAU talkshow, Ziptrek Ecotours, Whitler Blackcomb Ski Resort, Summit Ski & Snowboard Rental, High Mountain BrewHouse, Cougar Mountain Snowmobiling, Whistler Question Newspaper, Snowshoe Inn, First Air, Nunanet.com, Canadian North Accommodations by the Sea, DRL Coachlines Newfoundland, The National Post and Air North.



Reports
During my travels, my compensation for free accommodation for one night, was for me to write a daily travel diary. Of how I got to my next location, the people who would host me, the food I was offered and everything else. Below you find the archives of the highly extensive reports. Know that English is not my native language and most reports were written at high speed around midnight. Enjoy.
Tuesday, 16 April 2002

Mooloolaba --> Buderim, Sunshine Coast, Australia
Then my hostess suddenly surprised me and started to talk Dutch to me. It was fascinating to just be able to talk Dutch with her – however she spoke it the way the language was spoken a century ago and her kids got very keyed up, because they could not understand their own mother!

Even in the most expectable town, the most unexpected things can happen…
---

When I woke up this morning in an empty staff house of the Mooloolaba Palace Backpackers. Everybody seemed to have left work the few hours of work. In the kitchen I found myself some breakfast that Renée had left for me.

The weather hasn't improved since I got off Stradbroke Island, but that is okay with me. I had to wash away some suntan; otherwise my mother becomes way too jealous…

I spent most of the morning with some reporting, had a walk up and down the Brisbane Road towards the beach and got happy soaked-wet.

I found all the "workers-for-free-accommodation" back in the staff house, from noon on. Some preparing food in the kitchen, others busy with their job hunting (mostly by looking out of the window) and the rest watched a couple of videos.

It was 5.30pm when one Irish guy from the hostels' staff (I forgot his name…), offered me a drive up to my next hosting place in Buderim.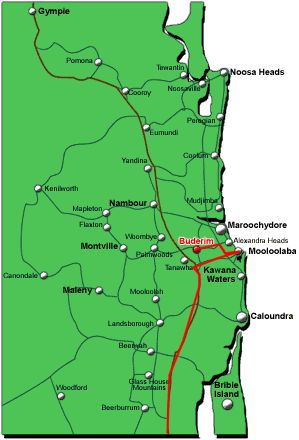 Buderim is around the corner from Mooloolaba, just on the other side of the Sunshine Motorway that runs all the way up to Noosa in the north.

Buderim is a scenic community on top of Buderim Mountain (in Australia every hill is a mountain) overlooking the Sunshine Coast in the east. In a British Airways Survey, Buderim was named 3rd after Paris and Aspen as the most desirable place to live in the world. I have personally think different about that, but that's maybe because life in an organised and planned suburb would never fit with me.

Buderim seems to be very planned out. Parts of forest are still getting cut, a road is made and here and there the real estate developers dot around some houses-from-the-book. Add a shopping centre,a few churches and community houses and: there you have a town.

I met up with my next hostess Magdalena Fillmore at 6pm, at the front door of her home in a suburban-like Buderim street. She just came back from the University, where she had 'interviews' about her son Beau and Greg and the Japanese exchange student that is staying with her, Masa.

Magdalena read about me in a local newspaper, long before I ever departed home in 2001. She was captivated with my idea and simply wanted to support me with a stay-for-a-day at her place on the Sunshine Coast. She is a nurse at the local nursery and personally takes care of her three children, including her thirteen-year-old daughter Brooke.

The kids are all very fond of ice hockey, which is a pretty undervalued sport in Australia. Magdalena is president of the local organization and is currently very busy writing sponsorship requests to anybody with an address, to get the team on to the games in Australia and New Zealand.

Her husband died six years ago and she is happy that her kids expressed their loss (and typical aggression) by going into sports. "They could also have gone the other directions, into drugs or something."

Beau got pizzas for dinner and we all enjoyed those slices while everybody interrogated me about my travels. Which is fun because young people might hear things for the first time, just those little facts about other parts of the world. No, South Africa is no jungle with spear-throwing tribes and yes, Holland is strangely the same as the Netherlands. To make it even more difficult: People from those two same countries are called Dutch.

(I agree this needs some new regulations, but if I would now state here that my home country is Netherland and I am Netherlandic, everybody would laugh at me, wouldn't they?)

The night ended with the kids watching Tom Green-videos on TV and mother Magdalena working with needles and fabric to do some sewing.

Then she suddenly surprised me and started to talk Dutch (haha: Netherlandic) to me. What? It seemed that she was born in Australia, but has lived in The Netherlands when she was young. Her parents are original Dutch! It was fascinating to just be able to talk Dutch with her – however she spoke it the way the language was spoken a century ago and her kids got very keyed up, because they could not understand their own mother!

Even in the most expectable suburb, the most unexpected things can happen…

Good night Buderim!

Ramon.