require("newlayout/mailinglist.txt"); ?>

require("newlayout/invites.txt"); ?>

require("newlayout/weather.txt"); ?>
require("newlayout/supporters.txt"); ?>

Sponsored links:
include ("display.php"); ?>


Link To Letmestayforaday


You can help me promote this website by placing a banner or a button of this project on your own website. Of course you'll get a link back on my links page!

(Macromedia Flash-banner, really cool and a click opens new window;
click here for the HTML-information)
Save images by right-clicking your mouse and select 'Save Image'.




(animated 234x60 pixels)




(animated 234x60 pixels)




(button 150x50 pixels)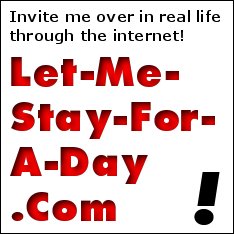 (unexpected size button 234x234 pixels)




(234x60 pixels)




(468x60)




(113x88, made and sent in by Zwolle.org)

and simply link to
www.letmestayforaday.com




Buttons & Banners

If you want to promote this project with your own self-made Letmestay-banners or buttons, please send them to me and I will ad them to this collection.