The official
Letmestayforaday.com
sponsors always were:


www.ODLO.com



IPtower.nl
is a Dutch company
which proudly sponsors
Ramon's telephone equipment, phone line communications
and digital camera
until August 2003

www.pac-safe.com
---
During my travels newspaper columns were published weekly in the Dutch daily newspaper




This project has been supported by these great and warmhearted companies:
Netherlands: Paping Buitensport, ODLO, IPtower.nl, AVRO Dutch Broadcasting Org., Travelcare, TunaFish, Book A Tour, StadsRadio Rotterdam; UK: Lazystudent, KissFM, The Sunday Times, The Guardian; Isle of Man: SteamPacket/SeaCat; Ireland: BikeTheBurren; Belgium: Le Temps Perdu, Majer & Partners; Austria: OhmTV.com; Norway: Scanrail Pass, Hurtigruten, Best Western Hotels; South Africa: eTravel, British Airways Comair, CapeTalk, BazBus; Spain: Inter Rail, Train company Renfe; Australia: Channel 9 Television, Bridgeclimb, Harbourjet, SeaFM Central Coast, Moonshadow Cruises, Australian Zoo, Fraser Island Excursions, Hamilton Island Resort, FantaSea Cruises, Greyhound/McCafferty's Express Coaches, Aussie Overlanders, TravelAbout.com.au, Travelworld, Unlimited Internet, Kangaroo Island SeaLink, Acacia Apartments; Malaysia: Aircoast; Canada: VIA rail, Cedar Springs Lodge, BCTV/GlobalTV, St. George Hotel, VICKI GABEREAU talkshow, Ziptrek Ecotours, Whitler Blackcomb Ski Resort, Summit Ski & Snowboard Rental, High Mountain BrewHouse, Cougar Mountain Snowmobiling, Whistler Question Newspaper, Snowshoe Inn, First Air, Nunanet.com, Canadian North Accommodations by the Sea, DRL Coachlines Newfoundland, The National Post and Air North.




Sponsored links:



Link To Letmestayforaday


You can help me promote this website by placing a banner or a button of this project on your own website. Of course you'll get a link back on my links page!

(Macromedia Flash-banner, really cool and a click opens new window;
click here for the HTML-information)
Save images by right-clicking your mouse and select 'Save Image'.




(animated 234x60 pixels)




(animated 234x60 pixels)




(button 150x50 pixels)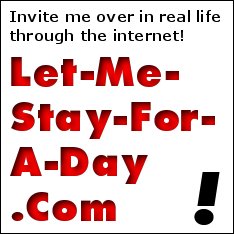 (unexpected size button 234x234 pixels)




(234x60 pixels)




(468x60)




(113x88, made and sent in by Zwolle.org)

and simply link to
www.letmestayforaday.com




Buttons & Banners

If you want to promote this project with your own self-made Letmestay-banners or buttons, please send them to me and I will ad them to this collection.