as published the "Cairns Post", August 3, 2002
(Cairns, Queensland, Australia)
Write way
to score
free trip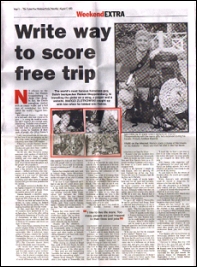 The world's most famous homeless guy, Dutch backpacker Ramon Stoppelenburg, is travelling the globe on a wing, a prayer and a website. MARGO ZLOTKOWSKI caught up with him when he lobbed into Cairns.
No offence to the bloke, but Ramon Stoppelenburg is cheap. Dirt cheap. In fact, the Dutch journalism student with an empty wallet and a bad case of wanderlust has been called the world's biggest freeloader.
But although Ramon – who begs for a bed and a free feed wherever he goes – is seeing the world at everyone else's expenses, he's not bad value, considering. Probably even a bargain.
Anybody who helps out this penniless web celeb is guaranteed instant fame among the hundreds of thousands of people who follow Ramon's adventures online day by day.
I once interviewed him for this article but now I too am hanging on the wall of his online digital photo gallery containing more than 5500 images.
When you consider Ramon's travelogue-style website www.letmestayforaday.com gets more than 1 million hits a month, that's some exposure.
On his site, this Net-savvy young man posts daily updates of where he's staying, what he's doing, who he's meeting and even what he's eating along with some astute and frequently droll observations about the planet and the people who populate it.
That sort of publicity has certainly been a big incentive for many businesses – airlines and buses, tour companies, resorts, hostels, pubs, even the makers of a new type of roller-shoe with detachable wheels. They are knocking each other down to sponsor Ramon and give him their products for his travels.
His digital camera is a freebie. So is his laptop computer, his backpack, his clothes and his mobile phone. Even his mobile phone bills are paid.
Ramon himself, a cheerful, chatty and canny young man in his mid-20's, spent just AU$70 setting up the website.
The he sat back and waited for the invites to come rolling in, helped along by the fact his quirky story was making headlines all over the world.
To date, more than 3400 people in 70 countries have invited him to stay at their place. And so far, after setting off from his hometown of Zwolle, east of Amsterdam in The Netherlands, on May 1 last year, Ramon has stayed with more than 300 of them in 16 countries and shows no signs of slowing.

Celebrity
He's been bungy jumping from the world's highest bridge in South Africa, has cruised Norwegian fjords, flown a micro-light (like a motorised hang-glider) in Britain, climbed the Sydney Harbour Bridge, won a limbo-dancing competition dressed in a bright pink toga at Mission Beach and stayed with TV's The Crocodile Hunter Steve Irwin in Beerwah, near Caloundra.
His travels have taken him from penthouse pads with butlers, castles and five-star resorts to poor student's digs in Paris where he slept on the floor – but he doesn't compare them.
"You stay with people with all kinds of social differences. From the people who support live kids and don't have a job to the people with six cars and two kids who say "where shall we build the second swimming pool?". It's all experience."
Ramon has mingled with stars such as Johnny Depp, Alicia Silverstone, Elton John and Boy George as a guest on the red carpet at last year's London premiere of Pearl Harbor.
"I sat next to Geri Halliwell and I had to ask her if I could please pass her to go to the toilet," Ramon recalls.
A bit thrill for Ramon, who has worked part-time as a pub disc jockey, was meeting musician Eddie Grant in Vienna, Austria, whose hits included the 1980's Electric Avenue. The two chatted backstage where they both were appearing on the Austrian talk show Vera. "Eddie said, hey, you're famous, dude!'," Ramon says in amazement. "I go like, 'Me? My mother danced to you'."
Ramon has even stayed with stars, including a mysterious world-class singer "like an Elton John or Mick Jagger". He plans to reveal all in a memoir he will write when his trip has finished.
Despite all the attention, Ramon is still, well, Ramon. Although he occasionally refers to himself on his website in the third person, he is no egoist and often laughs at himself, calling himself a web nerd with white skin and "strange" hair.
His diary entries are refreshingly honest. Ramon tells it like he sees it.
While staying at a hostel in Bingil Bay, north of Mission Beach, he talks about the spaced-out zombies on the faces of some of the other guests – "they were not only backpacking Australia but having a magic carpet ride over the surrounding jungle."
Ramon loved Magnetic Island but after a few nights in Townsville, felt he'd enough.
It was in Townsville he came down with the flu. He apologises to his hostess for drinking all her tea and using all her tissues while huddled under blankets watching her collection of old Friends episodes.
Cairns
Cairns cops a bit of a caning from the travelling critic. On arrival in the city at the end of May, Ramon writes he was a bit surprised to find it had no beach. "The tide was out and I only saw this endless stretch of mud for over a mile. How romantic!"
Although he says all travellers want to come to Cairns to see what the excitement is about, his views is the exciting bits are all outside the city, not in it. A photo of the City Plaza accompanies the statement with barely a person to be seen.
"The city itself hasn't very much to offer besides tourism shops (unashamed and excessive tourism with didgeridoos all over the place), restaurants and nightclubs," he writes.
"I hadn't seen so many hostels, tour operators and touts since the Costa Brava in Spain and a worrying large percentage of them seem to be run by the English, another reason not to spend too long in Cairns city itself."
With his first host Anne Falconer – who lives at Edge Hill, "guess what, it's on the edge of a hill," Ramon writes – he enjoys a backyard barbecue and fireside sing along. He also hits the town with Anne and her partner Jean-Pierre, playing keno at the Reef Hotel Casino and learning the salsa dance at Casa de Meze.
Ramon's stay also included days at Kewarra Beach and Brinsmead, where he hooks up with Canadians Tom and Kim Spence, here on a 12-month teaching exchange and living in the house of a Cairns teacher they swapped with.
It was at the Spence's I caught up with Ramon, who was planning the next Outback leg of his trip from Townsville west to Cloncurry and Mt Isa than on to Darwin.
The past couple of weeks hadn't been easy for our spare bed specialist.
His precious lifeline to the world, his laptop computer, was ruined on Great Keppel Island when rain flooded his tent. Although within four days an online appeal had unbelievable raised AU$2700 for a new one, Ramon had a hairy few days when he says he really did start to feel homeless.
To cap it off, while in Townsville, he and his girlfriend back home, Irena – who had been planning to fly out to see him in July – decided to call it quits. "The love has been fading away for a while," he says.
After 13 months on the road, is Ramon starting to tire of this game? No way, Ramon reckons he could happily go on for 10 years. When it does finally end, he wants to go out with a bang and spend his last freebie night at the White House as a guest of the US President.
"If he says no, isn't he the example to his country?" Ramon says.
In the meantime, Ramon is on a roll. He loves the live and loves to talk of it, which is lucky given he has to tell the same tale to a different set of hosts every day and give daily interviews to the media all over the world.
Ramon says he misses his family and hanging out with his mates but he still has a lot of world to see.
"It's not a homesickness. It doesn't mean I want to be home again. That would mean I have to get a job."
"I don't like to have a job nine to five or do what someone else says. I like to live life more. Too many people are just trapped in their lives and jobs."
With Ramon, who supporters call "an ambassador for peace and trust" there is no hidden agenda. He's not a religious nut and he's not trying to con you out of any money.
He just wants to live his dream of learning about the world and expanding his mind.
While Ramon's solo adventure could be viewed as dangerous, he refuses to let fear rule his life.
His only precaution is to keep in daily contact with his "backup team"- a group of friends who keep tabs on where he is at every stay.
Being in Australia since March also given him some insights.
"I have learned there are no koalas in every backyard, that people don't eat kangaroo meat every week."
Ramon has also noticed the rainforest are not necessarily rainy and the weather is hot, especially when you're lugging a 40kg backpack along a highway and trying to get a lift.
Ramon says his formula for getting along with people all over the world came down to three things.
"Life is about communication, understanding and respect. If you don't communicate you can't understand other people and if you don't understand them you can't respect them."
Tom Spence, who hosted Ramon in Brinsmead, predicts big things will keep on happening to the bright young man, whatever he does.
"And just by letting him stay with you for a day, you feel part of what he's doing too. That's exciting."
Ramon returns home to The Netherlands on September 5 for a break before resuming his travels.